2017tue14nov7:30 pm9:00 pmZadie Smith7:30 pm - 9:00 pm John H. Mulroy Civic Center, 421 Montgomery St, Syracuse, NY 13202 Event Organized By: The Friends of the Central Library
Event Details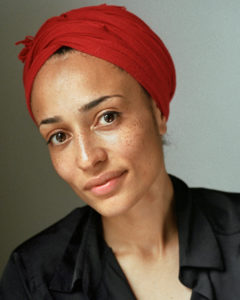 Zadie Smith was born in North London in 1975 to an English father and a Jamaican mother. She read English at Cambridge, before graduating in 1997. 
Her acclaimed first novel, White Teeth (2000), is a vibrant portrait of contemporary multicultural London, told through the stories of three ethnically diverse families. The book won a number of awards and prizes, including the Guardian First Book Award, the Whitbread First Novel Award, the Commonwealth Writers Prize (Overall Winner, Best First Book), and two BT Ethnic and Multicultural Media Awards (Best Book/Novel and Best Female Media Newcomer). It was also shortlisted for the Mail on Sunday/John Llewellyn Rhys Prize, the Orange Prize for Fiction and the Author's Club First Novel Award. White Teeth has been translated into over twenty languages and was adapted for Channel 4 television for broadcast in autumn 2002. 
Zadie Smith's The Autograph Man (2002), a story of loss, obsession and the nature of celebrity, won the 2003 Jewish Quarterly Wingate Literary Prize for Fiction. In 2003 and 2013 she was named by Granta magazine as one of 20 'Best of Young British Novelists'. On Beauty won the 2006 Orange Prize for Fiction and her most recent novel NW was shortlisted for the Royal Society of Literature Ondaatje 
"Endlessly fascinating… remarkable. …The impression of Smith's casual brilliance is what constantly surprises, the way she tosses off insights about parenting and work that you've felt in some nebulous way but never been able to articulate." 
— The Washington Post 
Photo: Dominique Nabokov
"Zadie Smith is not merely one of Britain's finest younger writers, but also one of the English-speaking world's best chroniclers of race, class, and identity in urban confines. Smith remains fearless, and there are moments that astonish. Her ambition and talent continue to awe." 
—Philadelphia Inquirer 
Prize and the Women's Prize for Fiction and was named as one of The New York Times '10 Best Books of 2012.' Zadie Smith writes regularly for The New Yorker and the New York Review of Books. She published one collection of essays, Changing My Mind: Occasional Essays (2009) and is working on a book of essays entitled Feel Free. Her new novel is Swing Time (November 2016). 
Zadie Smith is currently a tenured professor of Creative Writing at New York University.
Time

(Tuesday) 7:30 pm - 9:00 pm
Location

John H. Mulroy Civic Center

421 Montgomery St, Syracuse, NY 13202
Organizer
The Friends of the Central Library